HIGH NOTE :: Kraków Opera's Tales of Hoffmann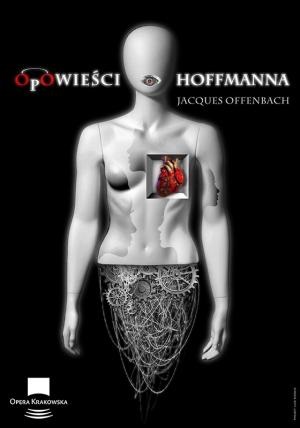 Director Michał Znaniecki on his vision of the opera. In a conversation with Elżbieta Krajewska he is also speaking about the coming outdoor production of Pagliacci in Szczecin, and about his award-winning social awareness projects.
Kosmiczny odjazd z Offenbachem
Mateusz Borkowski12 czerwca 2017
Dla tych, którzy znają i oceniają twórczość Jacquesa Offenbacha za sprawą jego operetek: "Orfeusza w piekle" i "Pięknej Heleny", zetknięcie się z jego jedyną operą może być nie lada zaskoczeniem.
Niedokończone za życia "Opowieści Hoffmanna" stanowią bowiem prawdziwe opus magnum kompozytora, dołączając tym samym do słynnych dzieł w rodzaju "Requiem" Mozarta czy "Turandot" Pucciniego.
Libretto oparte na opowiadaniach fantastycznych E. T. A. Hoffmanna to istny raj dla każdego inscenizatora. Z jednej strony historia jest świadectwem XIX-wiecznego i chwilami, jak u Lema – jakże proroczego wyobrażenia na temat przyszłości ludzkości, z drugiej zaś to przykład zakorzenionego od wieków w kulturze i tradycji archetypu kobiety i oczekiwań jakie wobec kobiet stawiają mężczyźni. Dodatkowo dzieło Offenbacha roi się od rozmaitych cytatów i odniesień, również tych muzycznych, jak choćby te rodem z "Don Giovanniego" Mozarta.
Nic więc dziwnego, że tego trudnego zadania podjął się Michał Znaniecki, który razem z kierownikiem muzycznym Tomaszem Tokarczykiem, spośród wielu istniejących wersji, wybrali dla krakowskiej publiczności tę opracowaną przez wydawnictwo Schott.
Znaniecki we współpracy ze scenografem Luigim Scoglio, postanowił zrealizować to, o czym twórcy opery fantazjowali w XIX wieku, przenosząc akcję do przyszłości (akt I – "Olimpia") i współczesności. Stąd np. Olimpia nie jest mechaniczną lalką, a robotem najnowszej generacji, Spalanzani jeździ na elektrycznej deskorolce, a Hoffmann ogląda swoją ukochaną przez okulary Google'a. W II akcie ("Antonia") akcja dzieje się nie w mauzoleum, a interaktywnym muzeum wzorowanym na Muzeum Chopina w Warszawie czy wiedeńskim Haus der Musik, zaś akt III ("Giulietta") rozgrywa się w nocnym klubie. Znaniecki zręcznie żongluje cytatami filmowymi, a to nawiązując do "Przypadku" Kieślowskiego (skopany, pijany Hoffman leżący po każdym akcie), a to do kultowego "Piątego elementu" (scena z Olimpią jako kosmiczną operową diwą), a także do serialu "Black mirror" i filmu "Ex Machina".
"Opowieści Hoffmanna" to także prawdziwy wokalno-aktorski tour de force dla primadonny krakowskiej sceny Katarzyny Oleś-Blacha (obsada I) i Marceliny Beucher (II). Obie panie, wzorem Adèle Isaac, podjęły się karkołomnego zadania wykonania wszystkich czterech postaci, w których kocha się tytułowy Hoffmann: śpiewaczki Stelli, robota Olimpii, artystki Antonii i prostytutki Giulietty. O tym jak odważne i zarazem wyczerpujące to zadanie, najlepiej świadczy przykład Diany Damrau, która w ostatniej inscenizacji w Los Angeles zdecydowała się wystąpić "tylko" w rolach Antonii i Stelli. Patrząc na wszystkie cztery role trudno rozstrzygnąć, która ze śpiewaczek poradziła sobie lepiej, bo Oleś-Blacha jako Olimpia nie ma sobie równych i jest bezkonkurencyjna!, z kolei Beucher bardziej przekonuje jako dziewczęca Antonia i uwodzicielska Giulietta.
Niezwykle wymagającą, również poczwórną partię mieli także świetny Mariusz Godlewski (I) i Grzegorz Szostak (II). Jedno jest pewne, takich okazji, by przeistaczać się jednego wieczoru, podczas jednego tytułu w tyle postaci, nie ma w operze wiele. Na ogromne brawa zasłużyła pełna naturalności Monika Korybalska, która brawurowo wykonała arię ze skrzypcami. Rozruszał się również aktorsko Tomasz Kuk, który jako tytułowy poeta prezentował świetną formę wokalną. Publiczność skradł też prześmieszny Janusz Ratajczak, który brylował w scenie z karaoke. Na pochwałę zasłużyli też występujący w roli barmana Krzysztof Dekański (I) i Jerzy Wójcik, którzy pokazali swe taneczne talenty dzięki świetnej choreografii Diany Teocharidis. Cóż, to po prostu świetny, drobiazgowo dopracowany spektakl!
Painful futuristic present of Hoffmann's Tales
http://www.operaworld.es/en/painful-futuristic-present-of-hoffmanns-tales/
www.dziennikpolski24.pl/aktualnosci/a/kosmiczny-odjazd-z-offenbachem,12170408/
www.dziennikteatralny.pl/artykuly/opera-jak-swiat-z-serialu-i-gier.html
www.thenews.pl/1/6/Artykul/312360,HIGH-NOTE-Krakow-Operas-Tales-of-Hoffmann